A versatile and delicious fruit salsa that is sweet, tangy and full of flavor. Typically a summer staple, our refreshing tropical salsa is an ideal snack for get-togethers and happy hours.

Only logged in customers who have purchased this product may leave a review.
An extravagant blend of mangoes and pineapples with just a touch of zesty jalapeno peppers makes this salsa a fantastic addition to happy hour or for use on top of a Caribbean inspired entrée. Start serving our mango salsa to guests and I'll bet you won't believe the reaction you will get. We haven't met anyone who doesn't need a little bit of paradise in their life! 
Ideas For Cooking
Serve over grilled tuna or halibut; perfect with fish tacos or try with grilled shrimp. Or simply enjoy with tortilla chips.
Contains
Mango, Crushed Pineapple (pineapple, pineapple juice), Onions, Red Bell Peppers, Water, Sugar, Garlic, Lime Juice, Jalapeno Peppers, Concentrated Passion Fruit Juice (passion fruit concentrate, filtered water), Cilantro, Concentrated Orange Juice (orange juice concentrate, filtered water), Salt, Spices
Nutritional Facts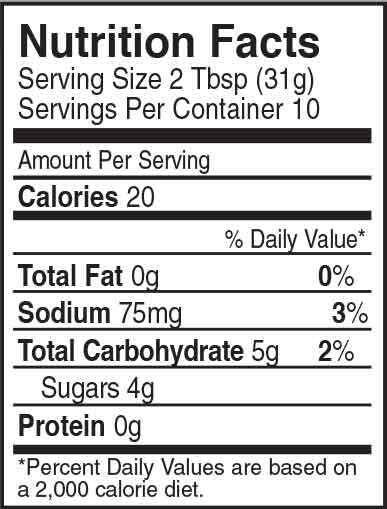 Recipe
MANGO SALSA MAHI MAHI TACOS
Preheat oven to 325˚. Heat 4 taco shells in preheated oven until crisp, about 5 min. Season two 6 ounce mahi mahi filets, cut into 1-inch slices, with 1 tsp black pepper, paprika & 1/2 tsp salt. Heat 1 tbsp of olive oil in a skillet over medium-high heat. Cook mahi mahi in olive oil until fish flakes easily, about 3 min per side. Place mahi mahi slices in taco shells and top with mango salsa. Enjoy!"