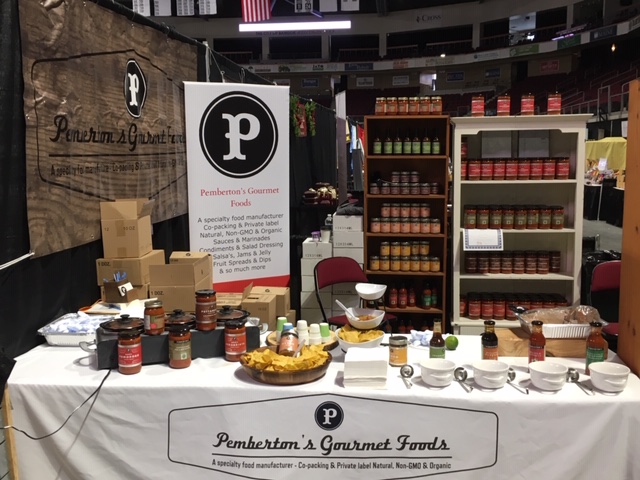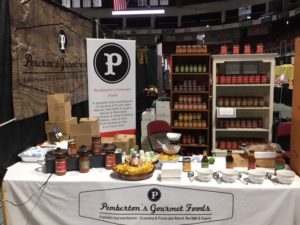 The Maine Harvest Festival, located in Bangor, ME hosted over 200 Maine farmers and festival food producers at the Cross Insurance Arena on November 23-24.  Pemberton's Gourmet Foods was proud to be one of the many talented, local Maine companies who were showcasing their specialty products for thousands of cheerful shoppers.  Chef Mangino's culinary skills were on full display as people crowded around the Pemberton's booth all day long. Shoppers enjoyed tortilla chips and mango salsa while waiting to get a taste of the flavorful meatballs smothered in Pemberton's gourmet pasta sauces.
Chef Mangino and the rest of the team were in their element serving delicious food to the public and proudly sharing the unique story of Pemberton's to everyone within ear shot.  Thank you for all who stopped by the booth this year and for those who missed out we will hopefully see you at next year's festival!
Check us out in this video of the 2019 Maine Harvest Festival.  You can see Chef Mangino and the team in their booth around the :50 second mark!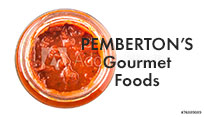 Pemberton's Gourmet Foods, a specialty foods manufacturing company in Gray, ME, was purchased by Chef Samuel Mangino along with partners Pete Ventre and Gary Robinson. Keeping Pemberton's a family-owned company, these local Maine residents bring years of food industry and business expertise and plan to build upon Pemberton's rich history as a premier fine food maker.
The new ownership marks an exciting chapter for the local company, as its commitment to help grow its brands becomes stronger. The company plans to expand its production capabilities and equipment, making it more efficient and better equipped to help private food label clients. As a proud member of the Maine community, Pemberton's offers its small batch co-packing and private labeling services to restaurants, small businesses and specialty food companies.
As former corporate chef for Schlotterbeck & Foss, Chef Mangino brings 25+ years of experience bringing food to life with his inspired creations. "I am thrilled to be part of a team that is delivering great tasting products to the market," says Samuel. "We will continue to expand the Pemberton's food brand, while also working alongside growing companies nationwide to expand their offerings."
"Pemberton's Gourmet Foods was attractive to us as the company was well established with strong quality customers, knowledgeable and dedicated employees, and an operating facility that allowed us to produce on day one," Pete remarks.  "Most important, however, was that our good friend, Chef Samuel Mangino, was enthusiastic about leading the company and bringing his creativity and many years of food service experience to the company."
Founded by Jeff and Sarah Johnson in 2002, Pemberton's Gourmet Foods has created regional gourmet pasta sauces, condiments and salsas, BBQ sauces and marinades and dessert topping favorites, such as Death by Chocolate, for nearly 20 years. Pemberton's has made its name by producing hand-crafted, artisan products that are seen in stores all over New England, from national chains like WholeFoods to local grocers like Pineland Farms.